Create an App Demo Video to show how your app works and how it solves your clients' needs with this awesome App Demo Video template.
Explaining your app with a video will help you improve the user flow and conversions.
You can make a demo video in minutes with this professional app demo video template.
"Using Wideo, we've increased our App Download CTR by 15%"
Hernán Botbol
Founder of Pricepulse & Taringa
Why 

should you create a demo video app

?
Both social networks and blogs or more traditional media are turning more and more to video content. Of all businesses, 81% use video as a marketing tool.
Rather than reading thousands of words in a written manual, app users would prefer to watch a short demo video that explains how the app works and what the benefits are in a couple of minutes. An app demo video will help you to improve the visibility of your mobile application by reaching an increasingly bigger audience.
If you want more people to download your app in places like the Apple Store or Play Store, you should offer an innovative solution, differentiating yourself from your competitors and convincing your audience that your solution is the best. Video is 5 times more effective than text.
Things that you should consider for your App Demo Video
Give a brief, clear explanation of your customers' problem. Highlighting the problem you are trying to solve is a good way to start the app demo video so that you can visualize more clearly the value that your app provides your clients.
Once the problem is explained, the second step of your app demo video is to show your users the added value that your product will offer them, along with the main advantages it has in relation to other similar solutions.
Don't try to force a sale here, since many people have become sceptical to certain marketing strategies
Finally, having already explained the problem and the value that you will provide your customers, it is time to give a step by step explanation of how your product works and what its features are.
With an app demo video you can show how your app works, illustrating each step and highlighting the main features of each section.
Who is this App Demo Video Template for?
This video template has been designed to be used by the owner or marketing team responsible for a business app.
It allows you to give a step-by-step explanation of how your app works, an outline of the different features you offer, and an overview of the benefits your clients will get from the app.
Easy-to-use online editor
You don't need to be an expert to use our online video editor. All you have to do is upload the screenshots of your app to the ready-to-use template, change the colors to match your brand, and that's it! Your professional app demo video is ready to go!
Keep in mind that our video templates are 100% editable. You can modify objects, colors, and backgrounds; clone scenes, add new scenes, and delete scenes that do not work for you; upload your own images, logos, and voiceovers, etc.
Free images and music for your app demo videos
We know you work in the online applications industry, meaning you're not a designer.
So, we've provided the perfect images and music for your app video in our extensive media library at no extra cost.
Select images, backgrounds, animated effects, and music to create original videos faster. You can also add images to your app demo video by searching for them via the Google search that's integrated into our editor.
Share your video in a single click or download it as an MP4 file
Once you've created a video, you can share it directly to your YouTube channel, social media networks or download it as an mp4 file so that you can save the video and use it offline to show it to your business partners or clients.
Mobile app companies that show their solution through a video have much more visibility than those that do simply with images and texts. Never stop sharing your video on every channel or network that you find. The possibilities of increasing your leads are endless.
On the other hand if you have to make a pitch to investors or customers. Doing it with a demo video app will be the most efficient way to show your product and thus increase the chances of achieving your goal, either raise investment or retain loyalty to your client. Having the video downloaded in high quality will be very useful in this type of situations.
How can you use your App Demo Video?
Increase conversions on Google Play and the IOS App Store by differentiating you from your competitors. With a catchy app demo video you can highlight the benefits of your app much more easily than with simple images.
Showcase your application on different platforms in order to grab the attention of potential investors. You can also use your video to get good reviews in business directories.
Improve the bounce rate and conversions of your landing pages by embedding your app demo video. Internet users prefer to watch videos rather than reading so much text. Guide them through your site with different demo videos.
Share your video on social networks, create email marketing campaigns with a link to a landing page where the video is embedded, embed it in a blogpost, add the video to the signature of your email.
Check similar video templates from our extensive video gallery
Desktop App Video Tutorial
EDIT VIDEO
Iphone X App Video Template
EDIT VIDEO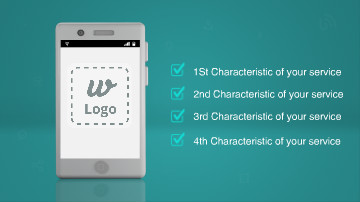 App Demo Video Template
EDIT VIDEO
Still not sure if Wideo is for you?
Do you want to hire a professional to create a custom-made app demo video for your company? Talk to our Wideo Pros and get a quote on an editable demo video of your own.
.
Improve user onboarding and conversions with a professional app demo video